Some tips of 'what to do' for an enjoyable wedding day
Remember by planning ahead there is less chance of stress or pressure, and you will have made happy memories as a 'A Vision of Pure Elegance'.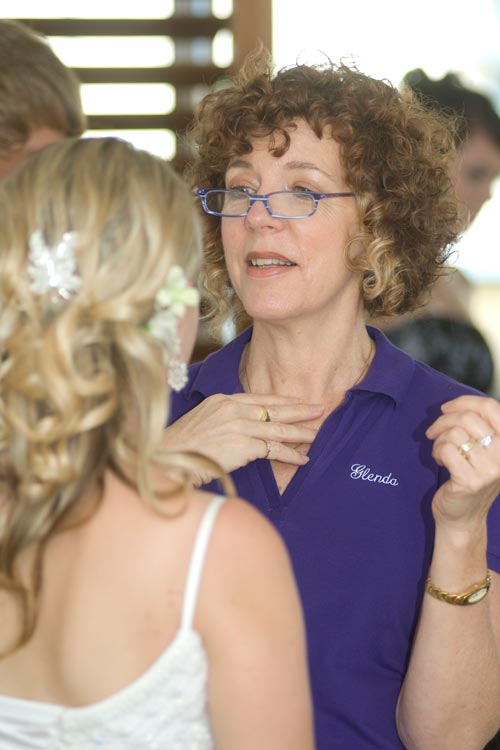 Plan for an enjoyable time the night before, as this will be part of your memories to keep forever. Perhaps you can check your garments and jewellery, underwear and shoes, before the last minute,and if adjustments are needed you will feel, ready.
Check that you have prepared your hair the day before as recommended by your stylist which often means washing it prior to the day. If you have a massage the day before, wash your hair well after it, as oil can leave a residue, making your hair floppy.
On the day of your wedding and before your hair and makeup is done, be ready by showering and wearing a button through, or strapless top, or robe for ease of removal.
Start the day off with a nourishing breakfast, as all brides need that extra energy to survive what can be a long day. It is a good idea to nominate a friend or family member to prepare light snacks, drinks, water, fruit platters and small bite sized sandwiches to be eaten before cleaning your teeth for your makeup.
Testimonial:
Dear Glenda
Thankyou so much for the amazing job you did on my hair and make-up. Part of the reason I enjoyed my wedding day so much is because what you did , made me feel beautiful. Thank you !!
Amanda
Hi Glenda,
My greatest thanks go to you for the absolutely brilliant hair and make-up service you provided for both myself and my bridesmaids on my wedding day. Your experience was invaluable in not only capturing the exact look I wished for but for also instinctly knowing how to complement my style with a perfect hair style for the bridesmaids. I cannot thank you enough for your advice on skin care and introducing me to NuSkin prior to my wedding day. You made me look and feel stunning and I am still receiving comments from people to this day. Once again, thank-you for making my day truly wonderful and carefree.
Sheena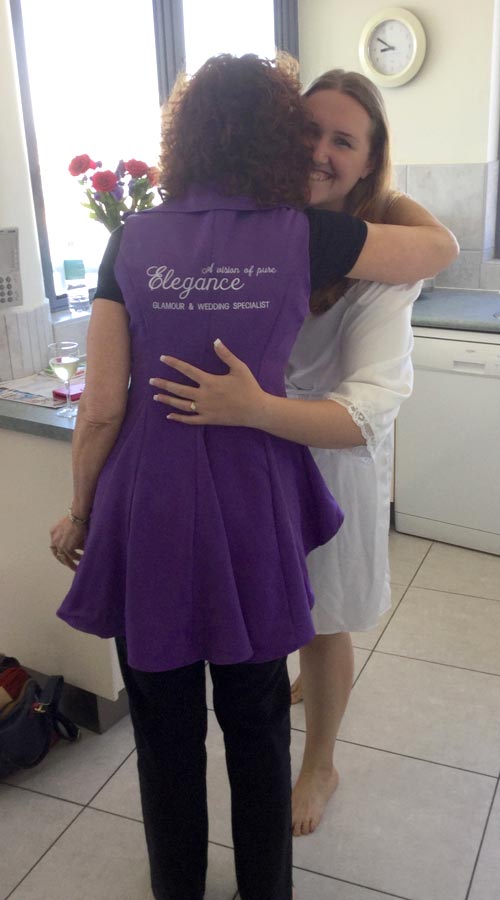 Limit champagne and alternate with water to prevent you getting headaches or light-headedness. Also it's not a good look to see you as the bride fall off your shoes!
Relaxing music can soothe the nerves, while also limiting the guests who think it is alright to drop in at this time. It can become rather noisy which can put you on edge.
Bring items like a pretty coat hanger to hang your gown on for the photo shoot, silk scarf if you need to put the gown over your head, scissors to cut off your clothing labels and the loop your veil was hanging up with.
Have a helper check the areas for proposed photos shoots : bedroom, lounge, garden, and balcony, are kept tidy, as it is easy for it to look like a bombsite has hit with a bunch of girls!
Pack your 'JUST IN CASE KIT' for your ceremony/photo session. Have an esky with cold drinks at photo time for all the party. A good job for the guys.
Be sure to include, hairpins if you remove your veil, lipstick and powder for touch up and tears.
The 'something old or borrowed' hanky comes in handy when secured to your bouquet, a comb and a small travel size hairspray, (if an out doors wedding,) small perfume and deodorant if it is melting outside, tissues, a few bandaids, sanitary protection, headache and antihistamine pills are also worthwhile. This can be shared in small elegant bags amongst the bridal party.
Also add to a plastic bag, a wet chux, and small towel to clean sand, mud or grass off shoes and the train of your dress.
Testimonial:
Dear Glenda, Thank you for your time, creativity, and lovely friendly service doing my hair and styling my bridesmaids dreadlocks!! We looked and felt great! best wishes, Jeanette
Some Useful links
click icons to visit websites